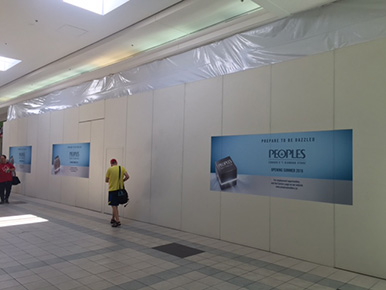 Steric Modular is the expert full-service company for modular hoarding in Ontario
Steric Modular is the company to turn to for modular hoarding systems in Ontario. With many years of service to the retail construction industry, we have a great reputation with retailers, contractors and mall developers.
Our expertise includes:
The right product for the right site. Our project managers have the experience to oversee all the elements of your modular hoarding project.
A toll-free number for answers to all your questions about our systems and a straightforward order form.
Ensuring seamless service – all projects are completed in one visit and create attractive sites for your customers.
Fitting our product to your standard or unique configuration; we can design the attractive modular system to fit your space – no matter what size.
Clean installations – modular systems are manufactured with graphics off-site, and assembled with no dusty construction at your retail location.
Ensuring your modular hoarding system is built to code with building regulations and fire protection.
Steric Modular serves the retail and business construction industry across Ontario.